Firebolt
Our newest model, the Firebolt is a combination of old school looks and leading edge design. The Firebolt was built to deliver tremendous speed coupled with unmatched torsional stability via state of the art weaved carbon limbs.

Increased speed allows the archer to choose a lower draw weight and still maintain the hard hitting characteristics of heavier conventional bows. Increased torsional limb strength makes every shot more accurate by virtually eliminating limb twist. This means more accurate arrow placement left to right.

The Firebolt delivers a truly unique shooting experience. When drawn, the archer will note how smoothly the limbs build up to the draw weight and how a slight "let-off" of weight can be felt as the limbs reach peak performance. The only way to achieve a limb design this aggressive is to incorporate weaved carbon. Standard limb materials simply won't suffice.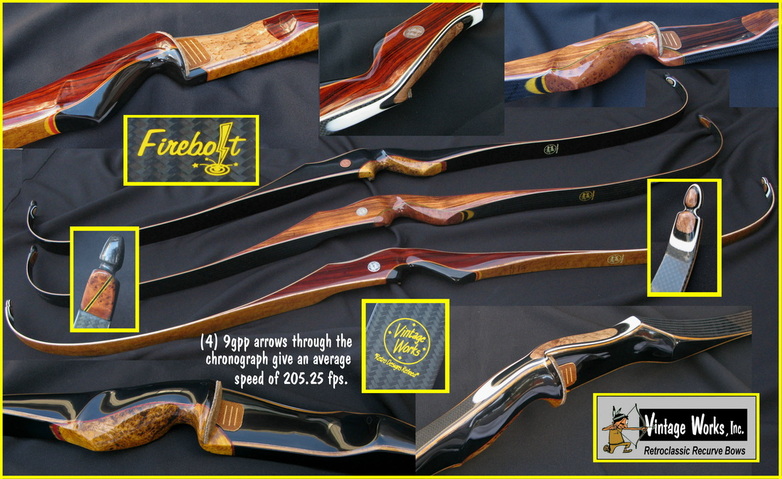 A Firebolt bow can be made for you from the following specs:

Right or left handed
Bow length: 60" and 62"
Draw weight: made to order at 28", +/- 2 lbs (+/- 1 lb. is extra charge)
Custom tiller: split finger or three fingers under
Riser wood: Rosewoods, Ebony or hardwood of choice. Black phenolic also available. Base price bow is Bolivian rosewood riser with rosewood half moon.
Laminations wood: maple, maple with veneer overlays, bamboo or lamination of choice
Tip and decorative cap colors: red and white, black and white or custom combos available. Tips are carbon with options available.
Construction: arrow shelf can be cut lower upon request. Factory camo available
Bow comes with leather side plate, rug rest and fast flight string.

A sample of some of our bows: